Temple Canyon 2017- Canon City, CO
TCE took opted to do it different this year. We took Little Red our shop rental to Canon City to take a run at the class with this small but potentent machine. Over the winter time the motor was frashened up and one big change was added; a bump to 16.5:1 compression! The results were more torque and clearly more drivability. By the same token we opted to keep the 4 Car at home remaining in its semi-ready state from Clifton for its trip to Mt. Washington in June. No point in double prep work. The 16 Car proved to be a nice fit to my personal needs both in physical fit as well as handling. Being some 300lbs lighter than the 4 Car the handling is light and quick. It's a very easy car to drive, both responsive and fogiving. Even up to the end of its ability it seems. We ran some 3:29s with it on Saturday and qualified second in class. Not bad for a fresh car. Sunday moring we made minimal changes (dropped the front a bit and took out most of the rear wing) and we were still stuck in the 29s...a few mote tweaks (tire pressure and dirver adjustment) and banged out a 3:25 on the second run while riding the rev limited into T1. Won't go much faster than that! (Results showed 96mph compared to 105 and 101 from some others- read on). As the clock fell and runs were completed we ended up Third in SS class. But not by much. All of the top three were in the 3.25 mark! Jay Stewart, Dillon Ediger, and myself: 25.3, 25.4, 25.7. What an awesome battle!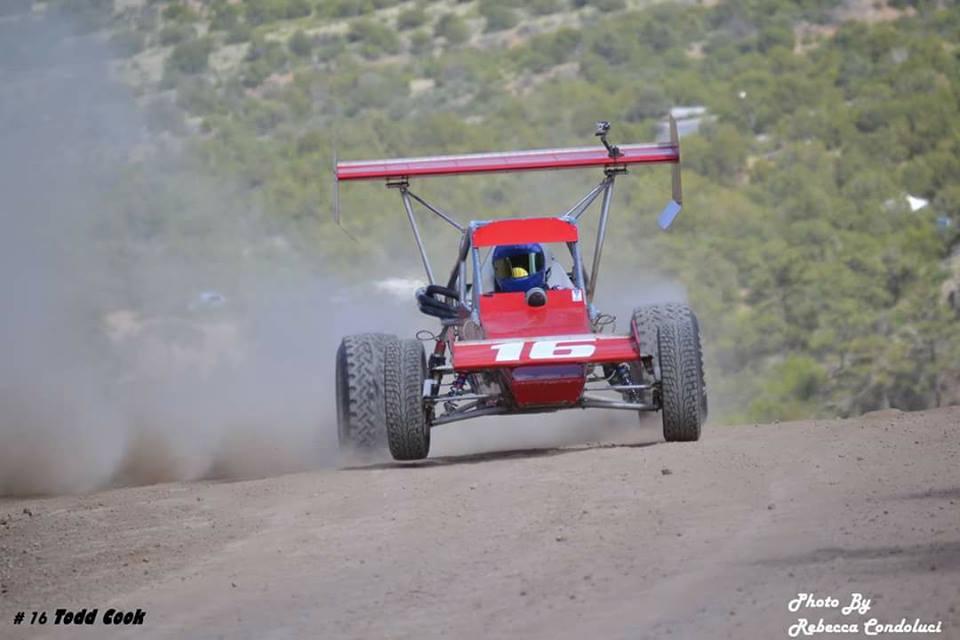 Clifton 2016- Clifton, AZ
Coming back from last years crash on Sunday Team TCE finished a strong 3rd in the Unlimited Class at Clifton. With not one, but three CO based Open Wheel cars in competition the team faced formidable competition from both last years winner and another Wells Coyote running a massive all aluminum V8. The odds clearly favored the higher horse power cars. Despite that the team selected some super soft tires to try and make back what would be lost in top speed with pure handling. And to a great extent it worked; with the top three cars bettering last years record time. Our best a 98.9 would hold up for third but be beaten by a 96.5 and a 92.9 late in the day for the overall quick time. We simply don't have the power and speed to run those times! The winning speed caught on radar at 124mph entering the first turn was awesome for eventural winner Spencer Steele. Overall the weekend went well with our car taking five runs on Saturday and three on Sunday. The weather was excessively hot, the beer cold and the friends great!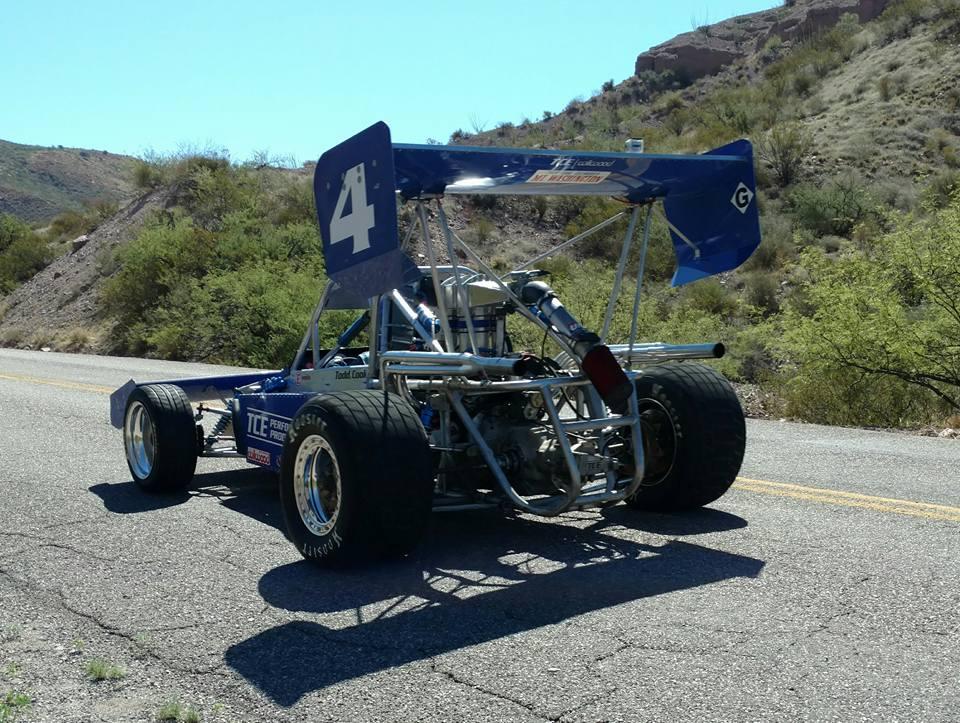 Lands End 2016- Grand Junction, CO
Trouble plagued the TCE team on the second run Saturday where we believe we may have broken a valve spring in the 3.0L SHO motor. With no back up and no way to service this machine in the field we figured it was a bust. But with the team having two cars- the 4 and the 16 our customer was kind enough to offer up his runs in Super Sprint and move his own entry to Open Comp allowing us a fighting chance at a finish. Great teammate! The 16 car has been a team rental for two seasons now and despite my driving it around the shop I've never driven it in competition....Without much thought I put it in the show with a solid 5:43 on the first run and backed it up with a 5:28 late in the day on Saturday. This time was disallowed on a technical infraction due to running in the wrong class. But the writing was on the wall; this little car could podium with some luck. Sunday morning has always proven a good road and this year was no different; run one had the 16 car in first place with a 5:22 and despite being a tick slower later at a 5:24 we were able to hang on to P1 and secure the teams 9th victory at Lands End! This one was hard and truly a team effort to get it all done. Couldn't be happier for all involved and for the 16 car for taking its first Win in nearly 20yrs!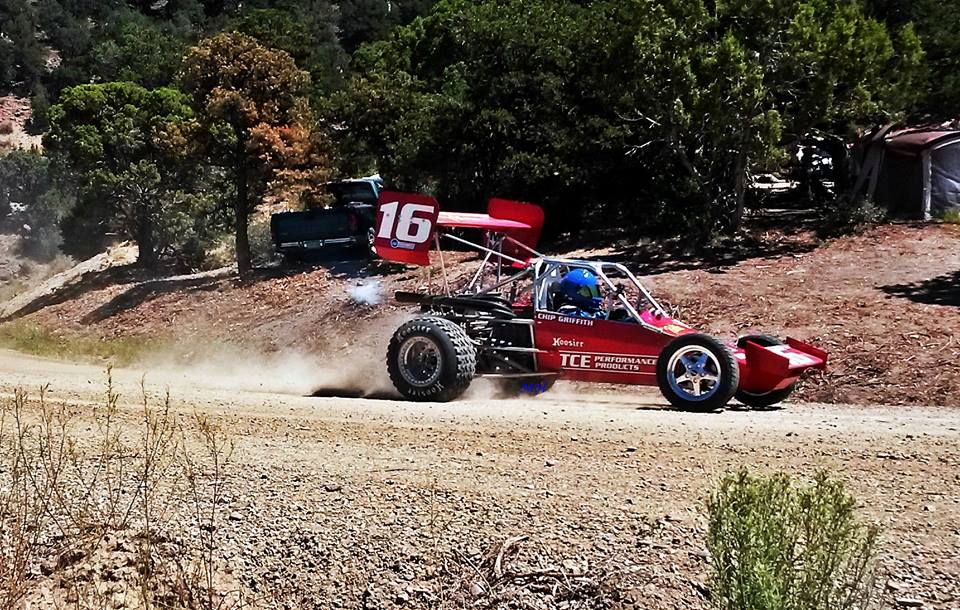 2016 Continental Divide- Monarch, CO
TCE Mines Monarch First Place
2016 Temple Canyon- Canon City, CO
TCE scores 9th Temple Win.
2015 Clifton Hill Climb- Clifton AZ
TCE takes 2nd in class and 2nd quick time.
2015 Lands End Hill Climb- Grand Junction CO
TCE takes first in class, third in Open Comp with a best time of 5:10
2015 Continental Divide Hill Climb- Monarch CO
TCE takes first in class, second overall with a best time of 2:09
2015 Temple Canyon Hill Climb- Canon City CO
TCE takes first in class, second overall with a best time of 3:17
---
Video from the 2012 Pikes Peak run!
---
2011: TCE Breaks Record on Mt. Washington!
The TCE Team finished second overall at Mt. Washington on Sunday June 26th 2011. With rain coming down off and on all weekend long the battle for grip was intense. Please see the related story links and results below.