Clifton 2016- Clifton, AZ
Coming back from last years crash on Sunday Team TCE finished a strong 3rd in the Unlimited Class at Clifton. With not one, but three CO based Open Wheel cars in competition the team faced formidable competition from both last years winner and another Wells Coyote running a massive all aluminum V8. The odds clearly favored the higher horse power cars. Despite that the team selected some super soft tires to try and make back what would be lost in top speed with pure handling. And to a great extent it worked; with the top three cars bettering last years record time. Our best a 98.9 would hold up for third but be beaten by a 96.5 and a 92.9 late in the day for the overall quick time. We simply don't have the power and speed to run those times! The winning speed caught on radar at 124mph entering the first turn was awesome for eventural winner Spencer Steele. Overall the weekend went well with our car taking five runs on Saturday and three on Sunday. The weather was excessively hot, the beer cold and the friends great!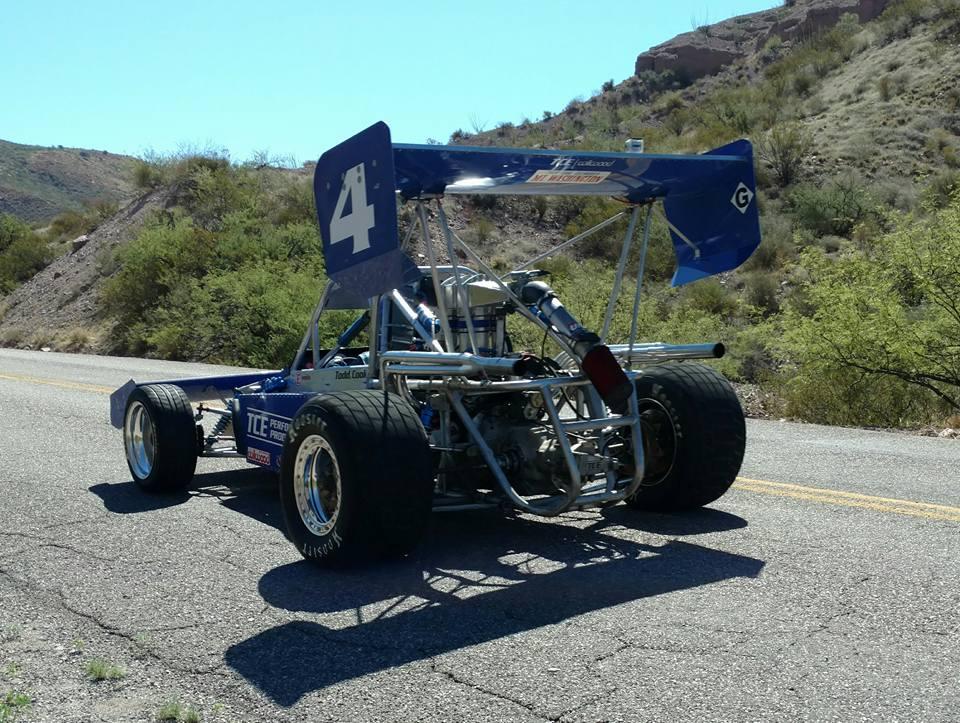 Lands End 2016- Grand Junction, CO
Trouble plagued the TCE team on the second run Saturday where we believe we may have broken a valve spring in the 3.0L SHO motor. With no back up and no way to service this machine in the field we figured it was a bust. But with the team having two cars- the 4 and the 16 our customer was kind enough to offer up his runs in Super Sprint and move his own entry to Open Comp allowing us a fighting chance at a finish. Great teammate! The 16 car has been a team rental for two seasons now and despite my driving it around the shop I've never driven it in competition....Without much thought I put it in the show with a solid 5:43 on the first run and backed it up with a 5:28 late in the day on Saturday. This time was disallowed on a technical infraction due to running in the wrong class. But the writing was on the wall; this little car could podium with some luck. Sunday morning has always proven a good road and this year was no different; run one had the 16 car in first place with a 5:22 and despite being a tick slower later at a 5:24 we were able to hang on to P1 and secure the teams 9th victory at Lands End! This one was hard and truly a team effort to get it all done. Couldn't be happier for all involved and for the 16 car for taking its first Win in nearly 20yrs!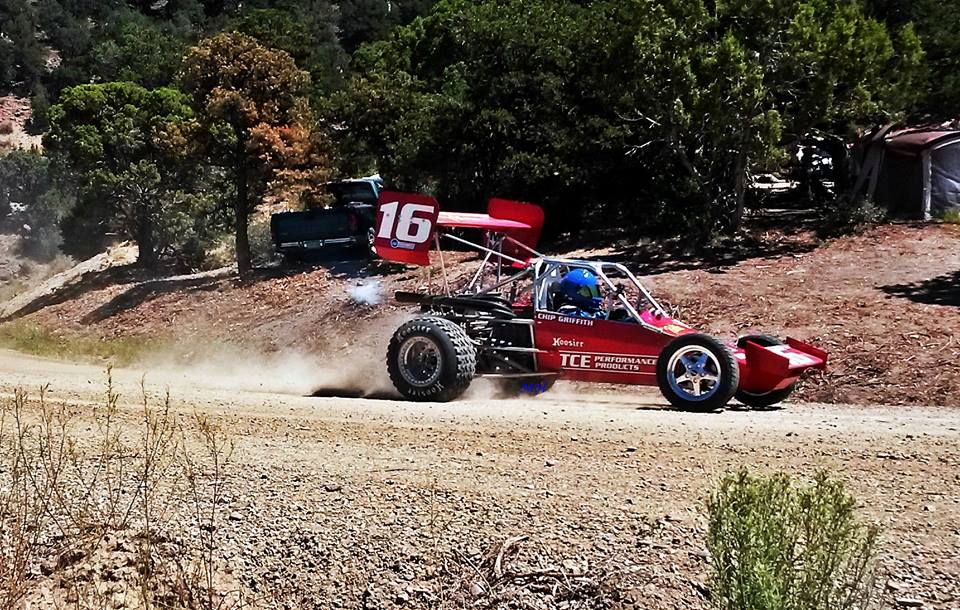 Continental Divide 2016- Monarch, CO
Despite dry, dusty and hot conditions Team TCE takes on Monarch and prevails! At an altitude of 10,774ft the pits here have high winds and high dust due to being placed in a quartz mining area. The road, narrow as it is, was packed up with a thick layer of dust. Great for driving on but not so much for racing. A few runs in the books and it was raceable in time. Setting a quick time on Satruday of 2.14.00 got us choice of start posistion and we opted to go first with the best the condtions would likely be due to water truck runs early in the moring. Matching that Saturday time the crew made a few minor changes including fourth gear. Enough to grab three seconds on the second run down to a 2.11.00 flat for fast time in class. It was not our finest showing but given conditions it was good enouch to clinch the win. This makes five wins at Mondarch and a team todal of 33 to date. Next up: Lands End.
Temple Canyon 2016- Canon City, CO
TCE make two trips for one race~ ! With the car in place and ready to race April 30th the Temple Canyon Hill Climb was cancelled due to snow! So we packed up, headed home, made some adjustments and put it back on the trailer for a return trip threee weeks later. A lot of road time here...But the effort was rewarded with a First Place in Super Sprint with a time of 3:21 and good enough for second quick of the weekend. Road condiions were as poor as they've ever been with a combo of dust, ruts, pot holes and shale beating up cars and drivers. There was simply no avoiding the hazardous conditions. But prep is everything they say and with some new tires and a bump up in ride height we soldiered on. Fast time in Qualifying allowed us to choose to start first or last in classs- last seemed the ideal choice allowing for others to sweep the road more and not follow the Rally cars which tend to dig out some rocks...And so it went; a 3:23 on the first run in the morring backed up by a tick quicker 3:21 in the afternoon. A big thanks to Chris, Barry, Glenda, Mom, and Gary for assiting in another great weekend. The teams 9th win at Temple.
Clifton Hill Climb- Clifton AZ
TCE takes 2nd in class and 2nd quick time.
Having set fast time on Saturday setting a new course record we managed but one run on Sunday before falling victim to the cable guard- rail on the second run. Unable to make additional runs there was little choice but to "wait and see" if the first run would hold up. Near the end of the day we were bumped from quick time by Dan Novembre who put in a great effort all weekend having come down form CO. Looking forward to taking those honors back next year but have some repairs to attend to!
Lands End Hill Climb- Grand Junction CO
TCE takes first in class, third in Open Comp with a best time of 5:10
Continental Divide Hill Climb- Monarch CO
TCE takes first in class, second overall with a best time of 2:09
Temple Canyon Hill Climb- Canon City CO
TCE takes first in class, second overall with a best time of 3:17
Video from the 2012 Pikes Peak run!
---
2011: TCE Breaks Record on Mt. Washington!
The TCE Team finished second overall at Mt. Washington on Sunday June 26th 2011. With rain coming down off and on all weekend long the battle for grip was intense. Please see the related story links and results below.
Results: 2nd in Open Comp Class, Fastest Open Wheel Race Car- Ever, Fastest 2WD Car- Ever