COLORS!
BLACK or RED not working for you? Let TCE show you some other options for many (not all) of your Wilwood Caliper finishes. The palette includes BLUE, YELLOW, SILVER...and on a limited number of calipers; Nickel Plate.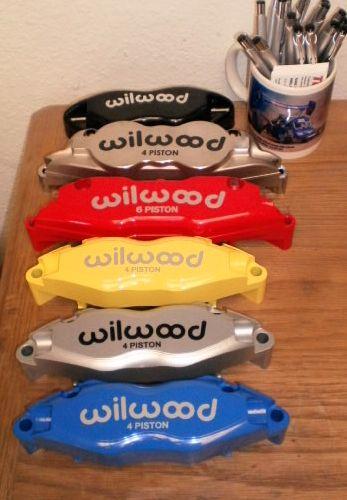 Say Hello to the: 4X Kit!
You would not buy a four wheel car with only two wheels, TCE figures you shouldn't buy half a brake kit either! So... we have come up with the 4X Big Brake Kit.
4X Big Brake Kits are a combination of front and rear kits targeted to your specific needs; usually based upon wheel fit size. These two kits are then packaged as one 4X kit and priced accordingly. Not only is the price point lower than had you purchased the kits individually but TCE picks up the shipping*. What you see: is what you pay! To the door. All inclusive. That's: Calipers, Pads, Hats and Rotors, Brackets, Harware and SS hoses. For both axles.
The other value to our 4X Kit is that we've come of age a bit and are putting these fantastic values one click away with "Buy It Now" features from our friends at Paypal. At check out you can even finance your purchase at 0% interest for 6 months- with Paypal approval. One stop shopping and financing make the 4X Kit a bargain in the world of big brake kits.
---
2014 Out of shop notice:
Please note that the shop will be closed
Mar. 19-23 DSFL- Dallas TX
Apr. 19-26 DSFL- Springfield/Chicago IL
May 1-5 DSFL- Dearborn MI
---
Dual MC Bias and Torque Calculator
The all new TCE bias and brake torque calculator is now available for your use. The new tool will help those with twin master cylinder set ups who struggle to determine the parts they need to meet their goals. This spread sheet allows the user to adjust all the variable; pedal ratio, balance bar centering, mc bores, pistons area, rotor size etc. to achieve not only the proper bias but to compare that data to the active weigh transfer values produced by inputting the cars dynamics! Check it out in the Toolbox above.
---
Ford Explorer Sport get TCE treatment!
Spining off the SHO/Flex kits to the next level you can now have four wheel TCE stopping on your Explorer! TCE has expanded the platform to include the Exporer with full 14.25" W6A and W4A brake kits. Check out all the details on the left under SHO, Flex, etc. New vehicles, new brake kit; it's what TCE does.
---
BRAKE FLUID: What does it all mean?
Check out this great interactive page put together by long time TCE customer, Dodge Magnum open track racer and all around great guy Matt Roberston! The most complete chart I've ever seen it should be bookmarked by all you track guys!
---
THE PIT BOX: Where the Deals are!
Looking for extra savings? Consider scratch and dent parts? Check here!
Nothing at this time
Call for complete details. All sales final. Limited options. Shipping to Cont. US only.