Why TCE? Now in the business for over 20yrs TCE has learned a thing or two about what works and what customers expect in their big brake purchase. Today we offer more kits than ever and design new product weekly. Some of the things that set TCE apart from other custom shops are:
TCE BRACKETS All TCE brackets are made from 6061 T6 aluminum plate. Not bar stock and not "aircraft quality aluminum"- of which there is no such thing. We use plate as it removes the stress fractures created by extrusions. It takes a bit more work but the added safety and stiffness is the result. Still all our lug mount, 5.25" center, (think FBDL or DP6) brackets are specially milled in a pocket fashion- to again reduce fracture assuring you of a safe and simple installation.

Most lug mount brackets are also fit with pre installed "Clinch Nuts" for both the caliper and spindle mounts. *Some spindle mounts are pre threaded when the material allows for it. The benefits of the clinch nut are: steel threads less prone to stripping vs aluminum, greater total surface area in many cases, and the captive nature of the design creating more clamp force when tightened- often to a bit more torque than you'd be comfortable with on a threaded bracket.

Our TCE Radial mount brackets are beefier and machined to to fit the proper mount centers of most Wilwood 4 and 6 piston calipers including the FSL6/4R, Aero6/4, and TC6R line. Often these require the milled round bosses shown for pocket fit into the caliper body. No cheap hardware found on other manufactures; TCE uses only ARP hardened, countersunk studs. Then we fit the shim kits and an AN cap washer with a locking Jet-Nut to it. Most of these bracket are threaded for our M12 (or M14) hardware which is included- the material being thicker allowing for this and less flex.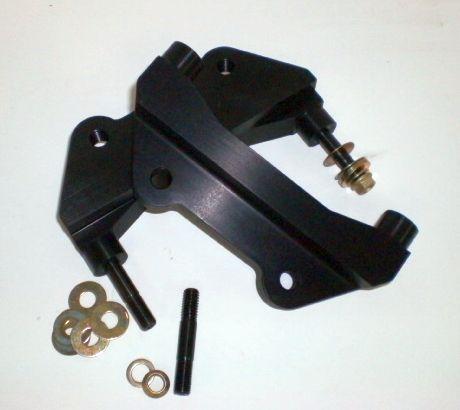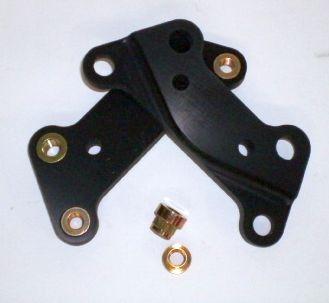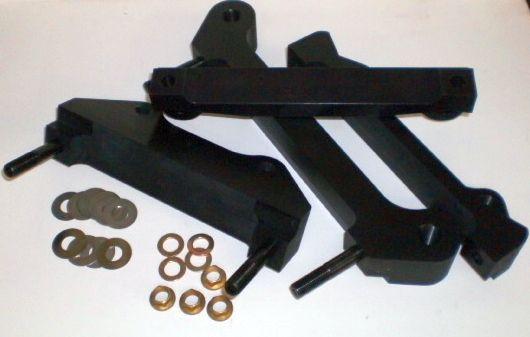 TCE HATS Our in house hats are produced in a variety of offsets and engineered for both 4 and 5 lug applications. Center register rings are used based upon the particular hub requirement. These features keep the costs lower and inventory steady. Also produced from 6061 T6 they are anodized black. *We also have "blanks" for specific needs beyond the normal market and can machine to fit. (no re anodizing is done)

TCE hats are also fully vented with our own air flow, pillar mount. Note both the strength and air flow venting properties on the backside to the hat to rotor interface. All TCE hats are 'thru bolted' using threaded rotors or open with nuts on the inside. This is done so that in the event of damage to the rotor the bolts can be ground off and the costly hat retained. Never will you be stuck with a bolt busted off inside a TCE hat and be forced to buy new hats jus to service your rotor.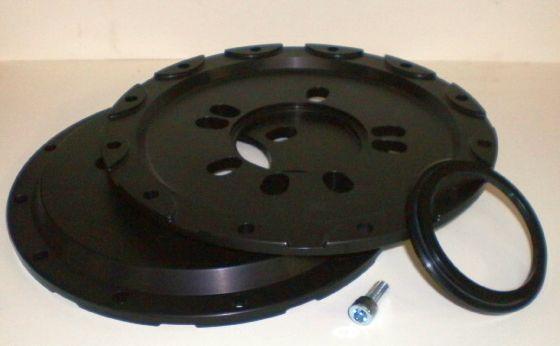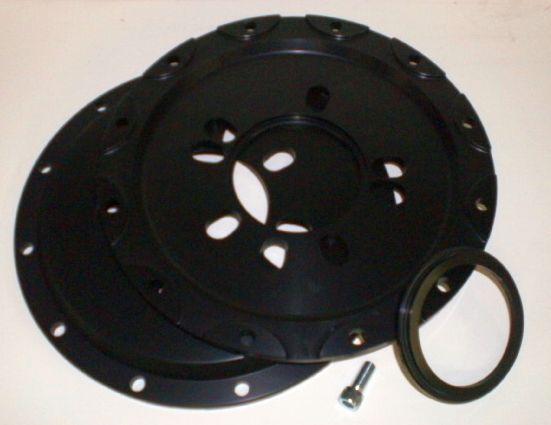 TCE HOSES and FITTINGS All TCE hoses are fully jacketed and fit with the proper chassis thread end. No pesky adapters are used between our hoses and your car's hardline. *Some exceptions may exist due to custom applications. The chassis end is specific to your vehicle and when necessary a center support matching your oe hose is provided pre installed on hte hose. Chassis clips are provided to secure the hose to a chassis bracket.

TCE uses mainly straight -3AN caliper fittings and then has the hose fit with straight, 45 or 90 degree ends. We do this to limit the likelihood of customers stripping the aluminum caliper body. Often when 45s or 90s are installed on the caliper they must be rotated or "indexed" to point the right way. This is foolish. Using a swivel fit end on the hose allows for easy, no mistake fit and adjustment.