2019 SEASON
The 2019 racing season begins in a couple of weeks with a HUUUGE change in the TCE Team Car. Gone for now is the reliable 3.0L SHO motor....in it's place an all new, custom built 2400cc Honda 4cyl power plant. This 'one-off' motor, built by Inline Pro, sports 15.5:1 compression and runs on methanol. That fuel is fed through a custom built Kinsler mechanical fuel injection system with the latest in adjustable jetting and Waterman pump products. The igntion; a simple and reliable Electromotive XDi crank trigger system. Net result: a projected 350HP. Why? The reasons are numerous; first SHO parts are getting harder and harder to find. Bearings are all but non-existant. But more importantly when you look at the power to weight numbers we've come away with more power and a weight reduction of about 185lbs. This meant a vast number of changes to the car from engine mounts, to adapter plates, to all new wiring and fueling systems. The only penalty we're now sporting is a heavier battery as it runs a 'total loss' electrical system- no alternator. Stay tuned.
Our thanks go out to:
Inline Pro, Kinsler Fuel Injection, Flatout Motorworx, Fathead Fabrication, Boen Built Fabrication, JPF Metalworks, Valtech, and more.
Temple Canyon: 1st Place Super Sprint
Picking up where we left off last season the TCE team scored it's 11th win at the Temple Canyon Hill Climb! Despite suffering some continuing teething problems our new motor format worked well enough to grab both "pole" time and the Class Win. Clearly there's more in the car than we got out of it at this event with some more work. But nothing fell off, failed, or prevented us from finishing all five runs over the weekend. Back to the shop and some more work over the coming weeks before we head off to Rangely for the first of two races there. Thanks as always to Barry and Glenda as well as my Car Owner: Chris for all their help. Also a shout out to Jake Dallenbach who ran his first weekend in our Little Red Rental and had a blast!
Rangely 1: DNF
Not one of our better outings for sure. We battled running issues much of the weekend. Finally found more timing in the engine was working to our favor. Then the crank sensor broke off completely! Tried a couple of ways to secure it and carry on. Managed to be in the battle for Qualifying time on Saturday only to have the first repair fail on Sunday Run 1 and DNF about a mile up the road. A hasty repair to the mount again for Run 2 was had and it rapidly became the first time the car had run with little to no misfire and take WOT up the hill! Things were certainly looking good. Until I found myself going quite quicker into one of the final turns. A braking application netting too much rear brake (something considered on Saturday but overlooked in the heat of the battle on the sensor) the rear locked up long enough to put the LF wheel in the ditch...which then sucked the entire in car with it. We were done about 200ft from the finish line! Was it a good enough run to take First Place? Dunno. Sadly with the failure on Run 1 and this we netted no time on Sunday. DNF recorded. Those always hurt but you put it behind and move on.
Monarch: DNF
Boy has it been a rough season so far! The TCE car, all repaired and ready to rock it at Monarch continued to suffer fueling issues all weekend. We put in some runs but the engine break up was simply too much causing the car to lose power. We fiddled with a number of things trying to dial it in but to no avail. The root problem we believe remains not to little fuel but to much fuel. Some rework on the jetting table by Kinsler revealed we are about two steps to rich with the jetting we have to work from. Just no power at 10,000ft elevation. Time to make some changes and head to Lands End at a lower elevation and see what the changes bring.
Land End: First in Class
Things improved for Team TCE! We headed into the Lands End race with some renewed efforts and changes we felt were in the right direction for our new motor. And while we have yet to hit it on the mark for optimum power we resolved many of the issues necessary to pull off what is our 11th Super Sprint win at Lands End. This course is all fun; tight, fast, slow, technical..it has it all. I think we ended up 4th quickest overal as well at a 5:02, which while short of our own record time, is respectable for the conditions of the day. The great thing about HC races is the lack of knowing just what you are going to get not only year to year but day to day and even run to run! Great work to eveyone who helpd out; Chris, Glenda and Barry for all you do.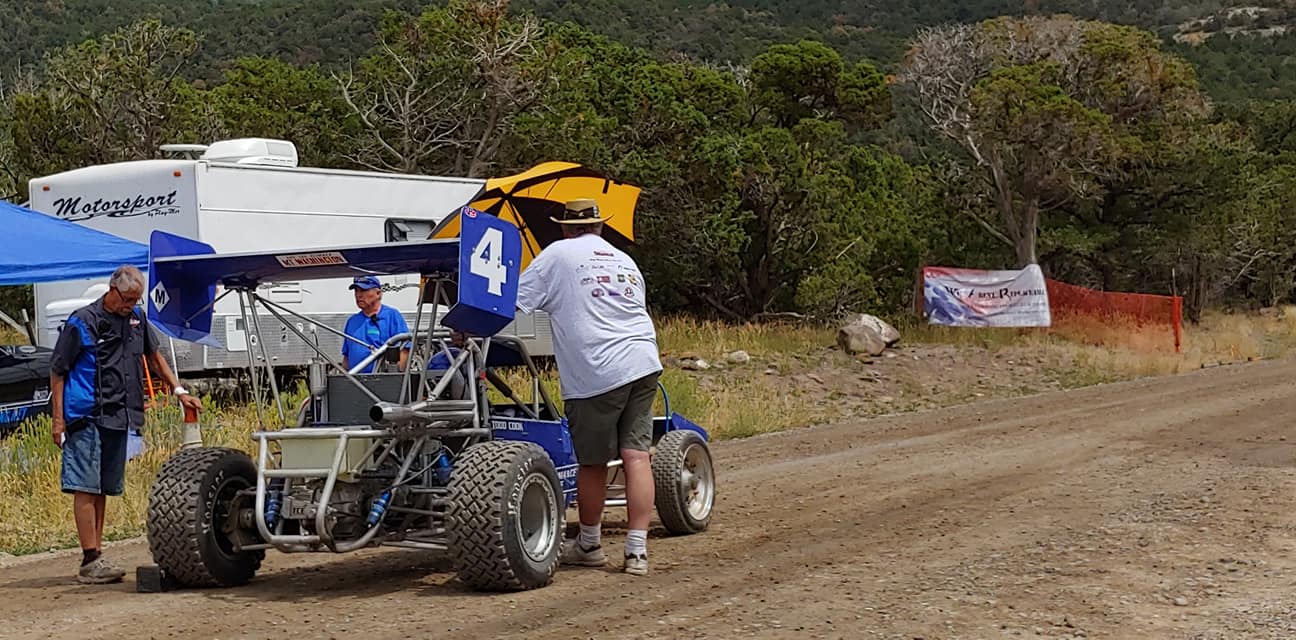 Rangely II: Second in Class
Continuing to fight the motor demons TCE came out strong with a new record time for Qualifying. That went sideways along with the car on the first Race Run on Sunday! Catching some air on a ridge in the road and carrying a bit too much speed we ended up in the weeds. Despite some great looking footage trying to save it! Damage was minimal and once pulled up the hill some 15ft it was driven back to the pit area and hastily readied for Run 2. That didn't happen right away due to the rains that came and dumped on the course. Once staged and ready the goal was to simply finish with a decent time- and not rack up anothe DNF....We were unlikely to better Mark Smiths first run time (bettering our Quali time by .02!) so the plan was to make sure the car was not damaged and register a time. Sometimes a solid second is better than further damage! With the road conditions and car condition still a question we settled on a steady run of 4:12, and called it a weekend.
Thanks to all those who helped this season; Barry, Glenda, Chris, Ed, the folks at Kinsler, Bowen Built, Flatout Motorwerks, Hoosier, Inline Pro, and to Chris Becker for looking after the 16 car all season and having a great time with us!