FREE DRILLED ROTOR UPGRADE!
Get a free substitution to Drilled rotors on select TCE//Wilwood 13" x .810 Kits!
MINI, Solstice/Sky, Contour/Cougar, Focus 02-07, SRT4
Call for details, While supplies last
---
New Front BBK for 2007+ Toyota Tundra!
For owners with oversized wheels TCE has the ticket for your big brake needs. The new 15" Aero6 front kit is an easy fit, durable and great looking option for replacing the stock iron boat anchors. The kit includes the conventional 2pc hat/rotor combo with true directional cast Wilwood Spec37 castings. Clamping those monsters are radial mount, six piston Aerolite calipers proven on many platforms. The direct fit install using our TCE radial mount brackets and dedicated ss flex hoses make easy work out of a weekend project. Base kits are offered in Black or Red finish with slotted rotors. Optional cross drilled and slotted rotors are also available. Starting price for this 15" kit is $2195 + shipping.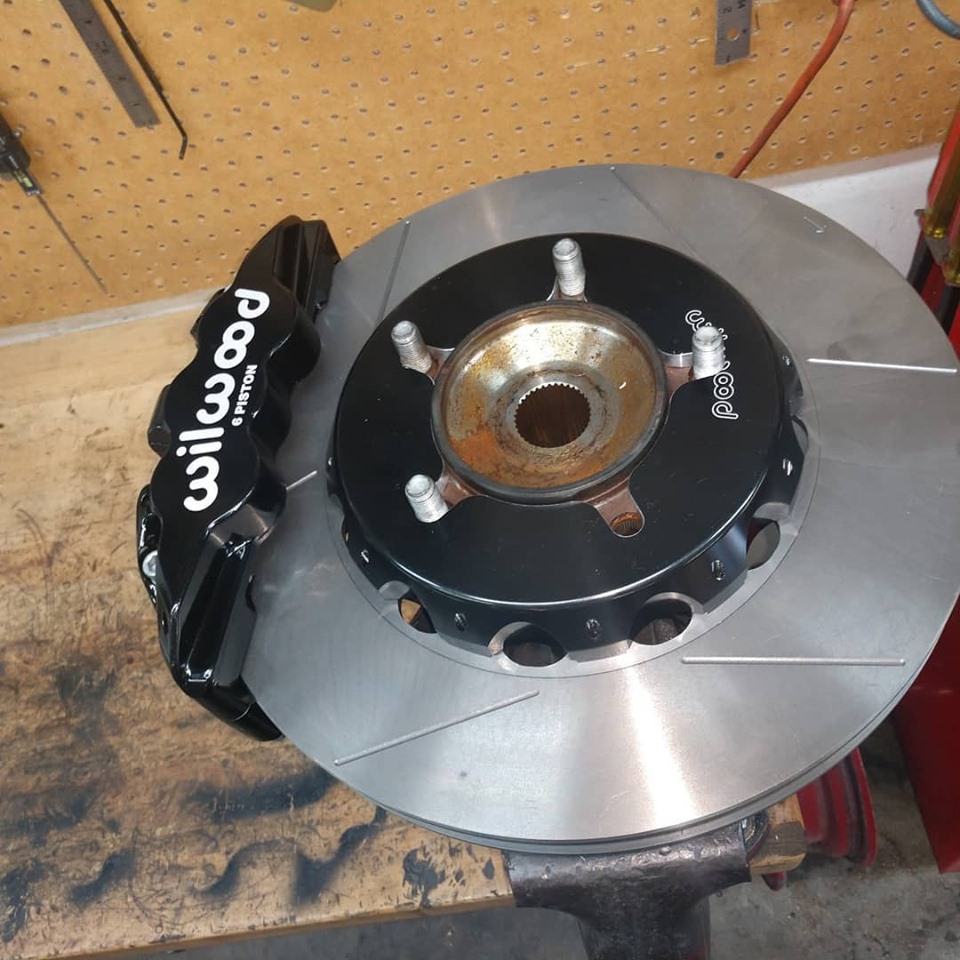 *Requires 19" or larger wheels. Will not fit stock 18s.
**See the Toyota Tundra page for more info.
---
2020 Out of shop notice:
Please note that the shop will be closed
Aug. 5-10 Lands End HC, Grand Junction, CO
Sept. 12-13 Temple Canyon HC, Canon City, CO
REFERENCE ROW
Links to various tools, suppliers and external input to help you with your braking project.
A very comprehensive listing of dozens of brake fluid specifications.
---
Pedal is still soft after bleeding? Caliper mounting angles can play a huge role.
---
What is it and how can it be altered?
---
Black and Red not doing it for you? Check out the options! Mix and match.
---
Depends on the specs of your BBK. Use this to help make the determination.
---
Close-Out and Discontinued Kits
TCE has a variety of kits produced over the years that have not met sales expectations. Our loss...your gain as we clear the shelves of bracket inventory. PLEASE CHECK THE VEHICLE PAGE FOR QTY REMAINING
Nissan Juke: 13" BBKs from only $1219!
Mazda 3: TCE/Wilwood 13 front BBKs under $1295!
Dodge Dart: Front BBK from only $1295
Cobalt/HHR: Front BBKs startigng at $1195
Titan/Armada: Front caliper kits $1297
WK1: Front caliper kits from $1297
---